Golden Dorado at the Palmar hydroelectric dam tail waters in the Negro river.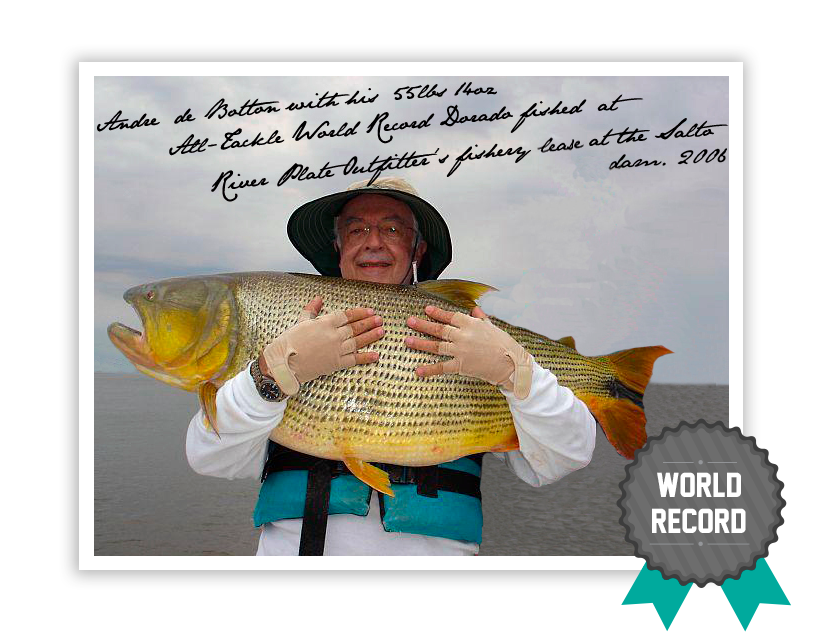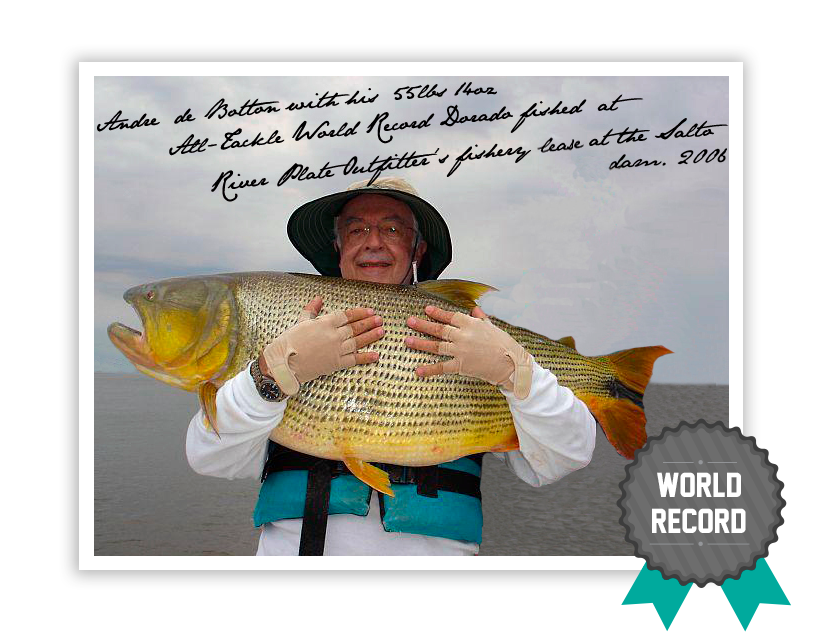 FLY FISHING
Golden Dorado eagerly strike big streamer type flies, black and dark flies being the favorite colors. You need to have a good number of flies with you as the toothy Dorado can make short work of a fly. Fishing is conducted from boats and thus the casting is unobstructed. 8 & 9 wt fly rods loaded with floating and/or sinking tips fly lines are the norm with 20 – 30 lb tippets sporting steel leaders being necessary as the Dorado have a mouthful of some rather impressive teeth.
BAIT CASTING & SPINNING
Like most fish, Golden Dorado do 95% of their feeding subsurface. Hard plastic subsurface baits, both shallow and medium depth lures are the ticket such as Yo Zuri Crystal Minnows, Rapala and Pervasa type lures. Medium to medium heavy bait casting and/or spinning rods are necessary with reels the size of a Shimano Curado 200 bait casting reel or a Shimano 4000 class spinning reel loaded with 50 lb braided Kevlar line being ideal. Again, you will need 12' inches or more of steel leader as the Dorado sport a mouthful of impressive teeth.
DOVES
Eared Dove, considered a plague in Uruguay , provides the ultimate high-volume dove hunting experience. Dove presentations are limitless each day and, hunters can expect to shoot well over 100 boxes per day at doves during the prime time ,November thru April. Driving times to the shooting areas are not more than 30 minutes.
TORNASOL TARARIRAS
(IRIDESCENT WOLF-FISH)
The Tornasol Tararira (Hoplias Lacerdae) dwells exclusively in the Uruguay river basin, including the Negro river (North) and the Santa Lucia river (South) in Uruguay. In Argentina they are found in lesser numbers in lagoons with muddy and sandy bottoms that are common in the Argentine margin of the river.
Although trophies can reach the 20lbs mark, a usual trophy normally is within the 12 to 15 lbs range. The most abundant size range is between 4 to 8 lbs..
The Tornasol Tararira requires different lures than the common tararira (Malabaricus), since they dwell in different environments and have different feeding and reproduction habits. Fishing tactics for this prized fish require extra subtlety, and expert guidance from local guides is strongly advisable to obtain results. Lure selection has to be very precise, because of the sensitivity of this species, everything counts: water conditions, time of day, Season, weather, etc.
Top water action is rare, normally the attack their lures near the bottom or in mid-water when water level is about 3 to 6 ft., and the temperature at the surface is abt. 75 deg. Fahrenheit, outside the spawning season. Early season they are found in quiet waters and shallows near noon. In Summer and hot weather they are found in deeper waters or in the shadow of coastal trees or in the mouth of fresh affluent streams. Clear waters enable sight fishing where shallow waters will allow us to appreciate the explosion of the lure attack and the black/blue torpedo running towards the deep.
Generally speaking, fishing in this waters imply line tangling often in vegetation and sunken wood, chosen line should be able to handle the extra effort. Trophy fishing in clear lagoons do not have this hurdle, and monofilament of no less than 0.28mm is acceptable and rod should support no less than 8 lbs.. Braided line is advisable for extra sensitivity, anglers enjoying the feel of the lure working will appreciate the upgrade, and the hits are thoroughly felt in the handle of the rod also. Less friction adds to the cast range and precision. The risk of losing the trophy is increased though, due to the line stretching, but this can mitigated with a more flexible rod and an intelligent use of the reel brake. Recommended for savvy anglers or curious ones.
Biggest trophies are so because they have survived a lot of incidents making them quite astute in overcoming all kind of fishing challenges with a perverse critical timing. They rarely swallow an artificial lure, and normally the start with a try that only compromises their lips and external cartilages.
These lines try to be a teaser introduction to this fantastic species. Anglers should try their well proven skills to try to catch this exotic trophy fish, not all of them will be successful, but the gratification of fishing a Tararira trophy will make this trip memorable.
THE ACCOMMODATIONS

THE TRIP
Our trips offering 4 full days of Golden Dorado and wolf fish fishing and high volume Dove hunting revolve around clients arriving in Montevideo on the morning of the first day of their trip. American airlines offer non-stop flights to Montevideo from Miami in the U.S., departing in the evening and arriving early to mid-morning . Guests will be met when exiting customs at the airport, helped with clearing guns and then transported 2,5 hrs north by van to Santa Sofia Lodge. Charter aircraft are available at an additional cost between Montevideo and your Estancia. We can customize your trip to your preference.
---
Itinerary – Cast and Blast
| | |
| --- | --- |
| Day 1: | Arrive at Montevideo in the morning from the U.S. You will be met at customs by a River Plate representative, helped clearing guns and then transported by van approx. 2,5 hrs north to Estancia Santa Sofia. You will get settled in, have lunch and then be transported to your dove shooting. |
| Day 2: | Breakfast at 7:00 am and at around 8:00 am be transported to your guide and boats for a day of Golden Dorado Fishing. You will fish for the day, returning to the Estancia around 5:00 for drinks and the evening meal. |
| Day 3: | Breakfast at 7:00 am and around 8:00 you will be transported to your guide and boats for a day of Wolf fish fishing. You will spend the whole day fishing, returning to the Estancia around 5.00 for drinks and the evening meal. |
| Day 4: | Breakfast at 7:00 am and at around 8:00 am be transported to your guide and boats for a day of Golden Dorado Fishing. You will fish for the day, returning to the Estancia around 5:00 for drinks and the evening meal. |
| Day 5: | Breakfast at 7:00 am and at around 8:00 am you will be transported to your Dove hunting for a morning hunt. Around 11:00 am you will be transported back to your Estancia for lunch. Early afternoon you will be transported by van back to the Montevideo airport for your evening flight back to the US. |
TRIP AVAILABILITY & COST
5 Day Cast & Blast trip (trips originating in Montevideo, Uruguay) $3,160.00/person
We can customize your trip length and activities around your desires; if you would like schedule
your trip strictly around Golden Dorado fishing or Dove hunting inquire for pricing.
Trip Price Includes:
Meet and greet at the Montevideo Airport by an English-speaking member of our staff
5 days and 4 nights lodging at our Estancia, single occupancy for 6 guests
Daily Maid and Laundry service
Food prepared by our on-site chef
Uruguayan beer, wines, soft drinks and bottled water
Not included In Trip Price:
Uruguayan gun entrance fee (if you choose to bring your own gun) $110.00/gun.
Transportation $ 200 both way.
Uruguayan hunting license/permits fee $200.00
28 & 410 shells are also usually available, inquire for price
Shot shells for 20 ga $16.00/bo
Gratuities suggested $100.00/day
Items of a personal nature & phone calls.
A deposit of 50% of the trip price is needed to confirm your trip reservation. Deposits and balances are non-refundable unless client finds a replacement.
---
Itinerary – Fishing Only
| | |
| --- | --- |
| Day 1: | Arrival day. Upon arrival, you'll be greeted by one of our English-speaking guides at Montevideo International Airport. From there, you'll have a 2,5 hours' drive to the estancia, followed by an afternoon fishing. Following you will, enjoy cocktails and a gourmet dinner at Estancia Santa Sofia. |
| Day 2 & 3 & 4: | Enjoy morning and afternoon fishing between golden dorado or wolf fish. Fishing grounds are 10-30 minutes' drive from the estancia. The evening will feature cocktails, dinner and lodging at Santa Sofia. |
| Day 5: | You'll enjoy a morning fish at any of the 2 species prior to your departure. Following the fish, you'll enjoy lunch at the estancia, then transfer to Montevideo International Airport for your overnight flight back home. |
TERMS AND CONDITIONS FOR 2018 / 2019 :
RATE: $ 3180 per fisherman is (4 full days of fishing; 4 nights; 5 days)
OBSERVERS: 50% of the program's rate.
PARTY SIZE: 2 to 6 fishermen.
COST INCLUDES:
4 full days of fishing.
All meals in fishing areas including liquor, wine and beer.
Single occupancy for up to 6 guests.
Not included In Trip Price:
Ground transportation ($200). In and out.
Fishing license ($200)
Gratuities
DEPOSIT, CANCELLATION/REFUND: A deposit of $1,500 per person confirms a reservation for the programs. They are NONREFUNDABLE unless client finds replacement.
ADDITIONAL DAY: Extra day rate is $ 795
OPTIONAL: You can choose the fish you prefer per day….