WORLD-RECORD
DORADO FISHING
PRIVATE TAILWATER (LA ZONA), URUGUAY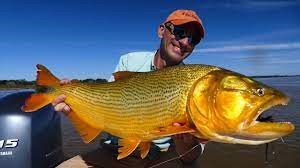 The wait is over! River Plate's World Record dorado fishing spot reopens where 8 World Records were smashed in just three seasons. The area has been unfished for 9 years. River Plate operated fishing trips at this world-renowned tailwater know as La Zona for three seasons, breaking a total of eight world records during that time before an abrupt government closure put an end to the fun.
The reopening exclusively to River Plate clients is limited to two boats, so get your name on the list to fish Private Tailwaters as soon as possible. This fishery is not just for giant fish; it's also for fish that are always present and almost always eager to hit throughout the year. It is one of the most reliable big-fish trips in the world.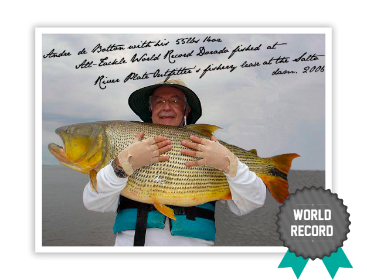 WHAT MAKES OUR TAILWATER FISHERY DIFFERENT?
Outstanding World Record fishing. During the three seasons this fishery was previously open (two boats only), a total of eight baitcasting and flyfishing world records were broken in various categories. The All-Tackle World Record was broken twice. The second fish was so large it has reigned supreme now for more than a decade.
World's Most Expensive dorado fishery. Back in 2013, when this fishery first became available, River Plate paid US $200,000 for the rights to fish it. That was at a public auction for the exclusive right to use only two boats.
Large daily catch. Over a three-year period (2013-2016) the average daily catch was 22 dorados per boat. A third of those fish weighed more than 15 pounds.
Low fishing pressure. This fishery has no pressure other than that provided by guests of River Plate who are allowed to fish from only two boats four days each week.
Convenient and comfortable lodging. Quiroga Suites where River Plate clients stay is a reserved area within Quiroga Thermal Spa & Resort, a well-known and highly respected resort famous, among other things, for its spa and thermal waters. It is only 500 yards from River Plate's tailwater fishing venue. All rooms are single occupancy and quite large with private VIP living and dining rooms for River Plate guests only.
Flexible Schedule. Fish in the morning, come back for lunch, followed by a soothing thermal bath and short siesta before spending the afternoon fighting dorado again. Your stay in Quiroga Suites will be professionally overseen by Pancho Cardoso, who was one of River Plate's founding partners more than 25 years ago.
Add-On Activities. A tailwater fishing adventure can also be part of a larger trip that combines giant wolf fish angling at one of our lodges, El Carmen, located on the route to/from Montevideo, Uruguay.f
WHERE IS OUR URUGUAY RIVER TAILWATER?
River Plate's world-record dorado venue is in northwestern Uruguay on the Uruguay River between Uruguay and Argentina. The Lodging is at our elegant exclusive Quiroga Suites overlooking Salto Grande dam, 500 yards from River Plate's private venue. The distances to the Private Tailwaters are 278 miles from Buenos Aires and 317 miles from Montevideo.
It is at a convenient 2 ½ drive from the duck ponds and dove roost of our El Rincon and Santa Rosa lodges in Argentina. It is equally close to our Santa Elena and El Carmen lodges in Uruguay.
GETTING HERE
Our Uruguay River tailwater fishery is reachable from Buenos Aires and Montevideo on direct flights from most gateways in the US. Most guests use our air charter to Concordia (Argentina) or to Salto (Uruguay) both at a 20-minute drive from the Quiroga Suites.
The one-way charter flight takes about an hour from either international airport. The drive between Quiroga Suites from either international airport takes 5 ½ hours. No matter what local transportation option you choose, it is possible to arrange for a shoot the same day you arrive or depart in either country.
Those who plan to fish, as well as, wing shoot tend to drive to the Quiroga Suites stopping at one of our wing shooting lodges in either country and/or fishing for giant wolf fish at another one of our fishing venues in Uruguay. And, air charter to the arrival international airport for their flight back home.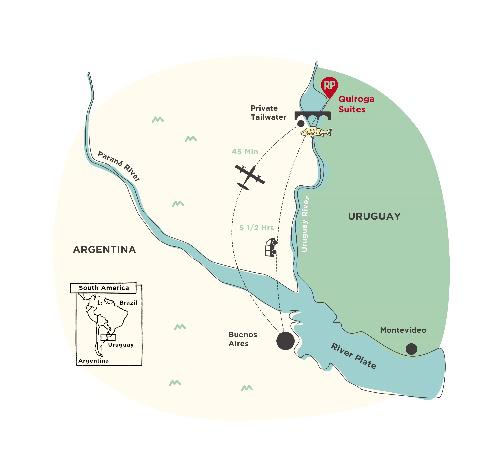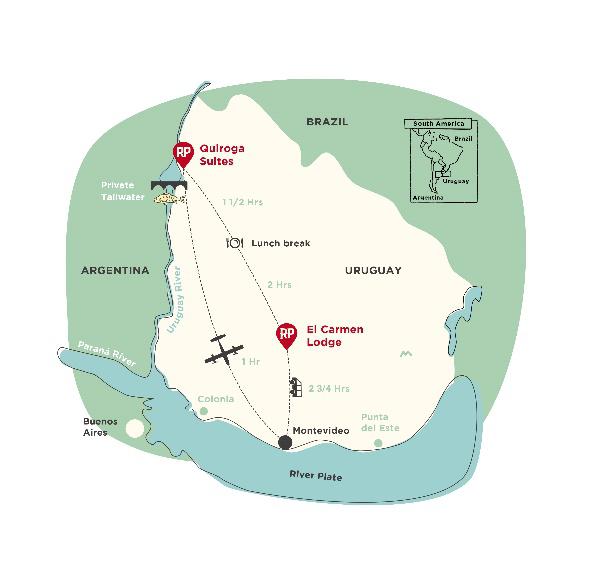 TYPICAL ITINERARY
The two-boat concession is only for fishing Friday thru Monday throughout the year.
Arrive in Buenos Aires or Montevideo and take air charter 1 hour to Quiroga Suites
or
Drive from Buenos Aires or Montevideo, 5 ½ hours (with an optional dove shoot on the way). 
Friday, Saturday, Sunday, Monday
All day fishing ( or depart Monday afternoon)
Air charter back to Buenos Aires or Montevideo to connect with your flight back home
or
Drive back to Buenos Aires or Montevideo to connect with your flight back home. On the way to Buenos Aires, there is time to stop to hunt doves, have lunch, and freshen up for 40 minutes in a country inn day room.
or
Drive back to either city with a 1 to 3-night stopover on the way to go wing shooting at one of our lodges or fishing for giant wolf fish at our venue for that species in Uruguay.
ACCOMMODATIONS AND FACILITIES
Landing big fish is fun, but the result can be sore muscles and aching wrists. And that is where the Guaraní Aquifer comes in handy. This large vein of hot water flows along the Uruguay River directly beneath your lodging for this trip, Horacio Quiroga Thermal Spa & Resort, providing the hot, mineral-rich water for an elaborate array of thermal opportunities, including an in-suite hot tub and even a thermal massage shower.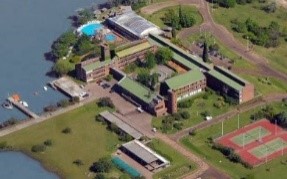 If your spouse likes spas, she will love this lodging, and so will you as you lie back in your own private hot tub after a day on the river tangling with dorado up to 30, or even 40 pounds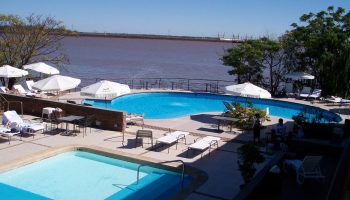 The other nice thing about your lodging is the privacy it affords you and your group, who will all have exclusive access to a VIP section of the resort.
Your bedrooms (12 in all) will be here, and you will take your meals here a la carte in a private dining room with an open bar and private sitting room. As for the quality of the bedrooms, they are comfortable, quiet, and private. Your bedroom will afford a view of the reservoir created by Salto Grande Dam and a partial view of the 590-acre park that surrounds the resort.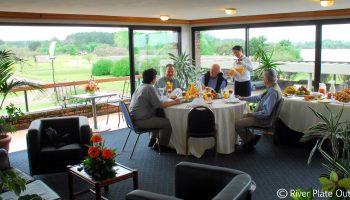 There are horses for hire and hiking trails to enjoy if you or your spouse so desire. The tailwater itself will not be immediately in view from your bedroom, but it is only minutes away. The rooms, the ambience, and above all the location of Horacio Quiroga Thermal Spa & Resort make it the perfect place to stay while fishing our Salto Grande Tailwater. The ride to the river from the resort literally takes only minutes.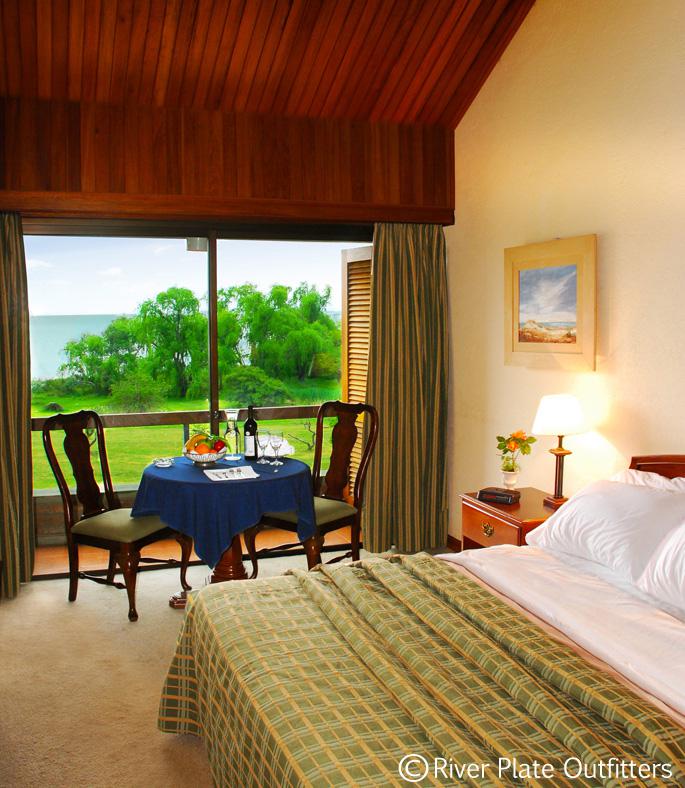 The Golden Dorado is a very aggressive fish with an impressive leaping ability, outrageous strength, and unparalleled stamina. A relative newcomer to the international fishing scene, Golden Dorado have won the respect and enthusiasm of anglers all over the world in recent years. The reputation of our fishery has soared along with this general increase in interest, making it the No. 1 choice of many anglers. Come see and feel what the excitement is all about. Maybe you will be the lucky angler who topples the IGFA All Tackle World Record for a third time in recent years. The last two record fish were taken in our Private Tailwater bellow the Salto Grande dam !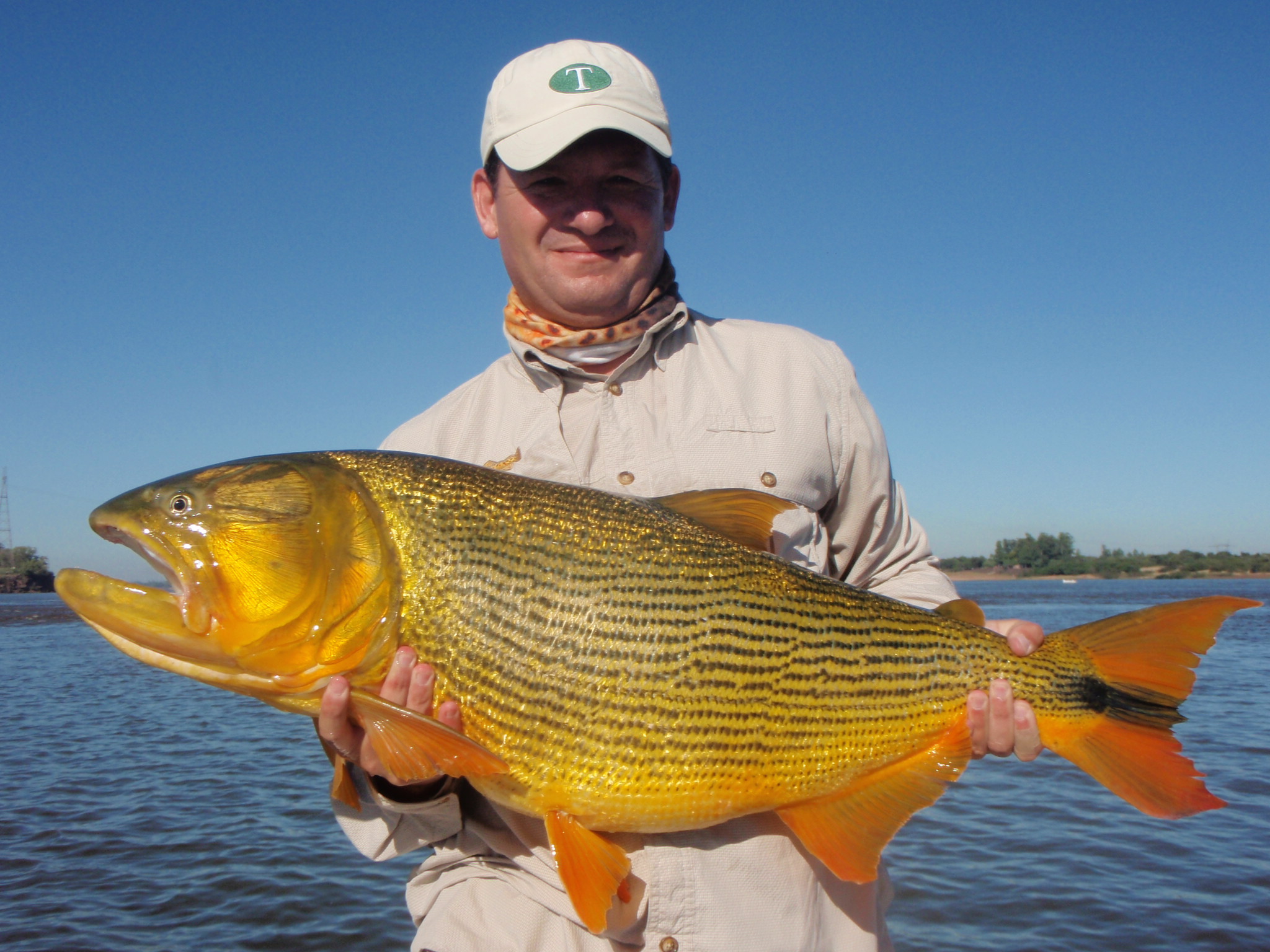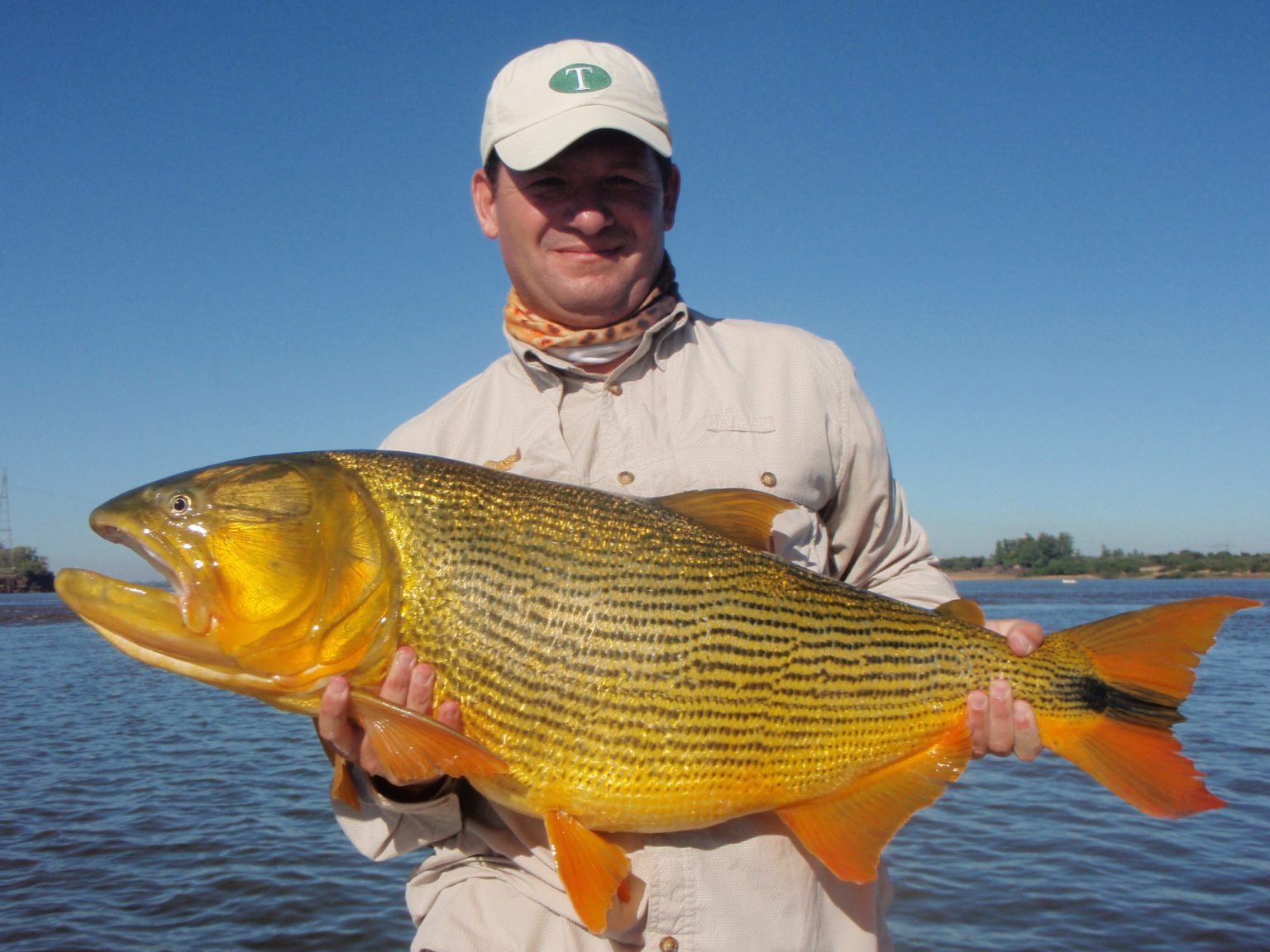 The dorado in our Tailwater venue reach incredible size and number due to the large amount of food being flushed through the dam's turbines. The unusually large biomass, or total mass of organisms in the water below El Salto Dam, coupled with a superabundance of oxygen due to the whirling of the turbines, creates a uniquely rich, Jurassic-like environment presided over by outsized apex-predator dorados that just get larger and larger as they age. At times, great blocks of water below the dam erupt with dorado in a breath-taking display of brute power that has made many anglers' hands tremble with buck fever and excitement.
All fishing is done from wide, 21-foot shallow-draft fiberglass bass boats with two large casting platforms. The boats are powered with 90-horsepower outboard engines, backed up by a 15-horsepower reserve outboard. The boats are plenty large and well suited to accommodate two baitcasting/spin anglers or two fly anglers. 

Our Uruguay River tailwater fishery is one of the greatest big-fish destinations in the world today. At the same time, it can also be approached as an add-on to a trip mostly devoted to wing shooting for ducks, doves, and/or perdiz. The easy linkage of these two activities stems from the almost ideal location of this fishery about 1 ½ to 2 hrs drive from most of our wing shooting lodges in Uruguay and Argentina.
With so many options available, it is impossible to spell them all out in detail, but here is a sample of the options available. Just pick the general option you like, the number of days and the activities you want, and let us come up with a detailed plan and quote.
The Dorado Tailwater Season: All Year
Rooms Available: 12, all of them single occupancy with thermal whirlpool baths
Boats Available: 2 boats ( two 8-hour shifts during the long summer days in November thru March).
Party size: minimum 4 anglers and maximum 12 anglers.
Five-night stay at the Quiroga Thermal

Spa, including

4 full days of dorado fishing.
The all-inclusive rate per guest on a single occupancy basis is $4,700 and the 8th angler is free . Observers $1,750.For round trip air charter from Buenos Aires or Montevideo add $1,400 per guest. 
Three-night stay at the Quiroga Thermal Spa, including

4 half-days of dorado fishing,

plus two nights at

El Carmen Lodge

 including

4 half-days of fishing for giant wolf fish, plus 2 half- days of dove shooting on the way

to/from Buenos Aires or Montevideo. The all-inclusive rate per guest on a single occupancy basis is

$3,400

and

the 8th angler is free. Observers

$1,750.

For single-leg air charter from Buenos Aires or Montevideo add $ 460 per guest. The other leg is not necessary since El Carmen lodge is on the way to Montevideo or Buenos Aires.
The best time is during our summer, November thru March. 
WHAT'S INCLUDED:
For angling: Every two anglers will be assigned two professional guides with 21-foot shallow-draft bass boat powered by 90-horsepower outboard engine backed up by a 15-horsepower reserve outboard. Fly fishing only dates available upon request. Service personnel and field assistants. Baitcasting and spin fishing tackle. Fishing licenses. Permit to fish the tailwater. Lodging and meals, plus open bar. VIP private dining area, plus access to facilities and services at the Quiroga Thermal Spa, including open, enclosed, and private thermal whirlpools. Wi-Fi.
For wing shooting: Service and field assistants for dove hunting. Hunting licenses in Argentina and Uruguay. Permit to hunt selected area.
NOT INCLUDED:
For angling:
Fly fishing tackle.
Gratuities (suggested amount $400 for five days fishing).
Lures $8 – $15 each for conventional fishing.
1- Meals when traveling to and from airport and other items of a personal nature (phone calls, etc.).
2- Masseuse
3- Tours and shopping trips.
4- Any charges for early or late arrival/departure.
For wingshooting:
Same as above.
Gun entrance in Argentina and Uruguay, $110 per gun.
Gun rentals $80 per day. We have a large stock of guns available. Please feel free to request our gun list.
Shot shells for 20 and 12 gauge shotgun, $14 per box.
Best Times for Dorado Fishing
Our Salto Grande dorado venue is open all year, and fishing is excellent whenever you want to come. There are seasonal trade-offs, however, that correlate with average monthly temperatures, shifting the sweet spot back and forth between size and quantity of fish you are likely to catch.
May thru October:These are our colder winter months, coinciding with the spawning season. At this time of year, you will likely land larger trophies but fewer fish overall. The early to mid part of this period is a good time to combine your dorado fishing with duck, dove, and perdiz shooting at one of our estancias on the way to or from your international arrival city, namely, Buenos Aires or Montevideo.
November thru April: These are our summer months when the fish seem to be everywhere but just not quite as large as during our winter months. Days are long this time of year, with 13 hours of sunlight. Three- to five-hour breaks at midday for lunch and a siesta become routine. Your arms give away long before the dorado do! This is also a good time to combine your fishing by stopping to tangle a couple of days with giant wolf fish or dove hunting on the way to or from Montevideo.
Our lodges on the way to the Tailwaters
You may combine 2 days of Tailwaters fishing with 2- 4 days of duck, perdiz and dove at RPW's following nearby lodges:
Best Times For Various Combinations