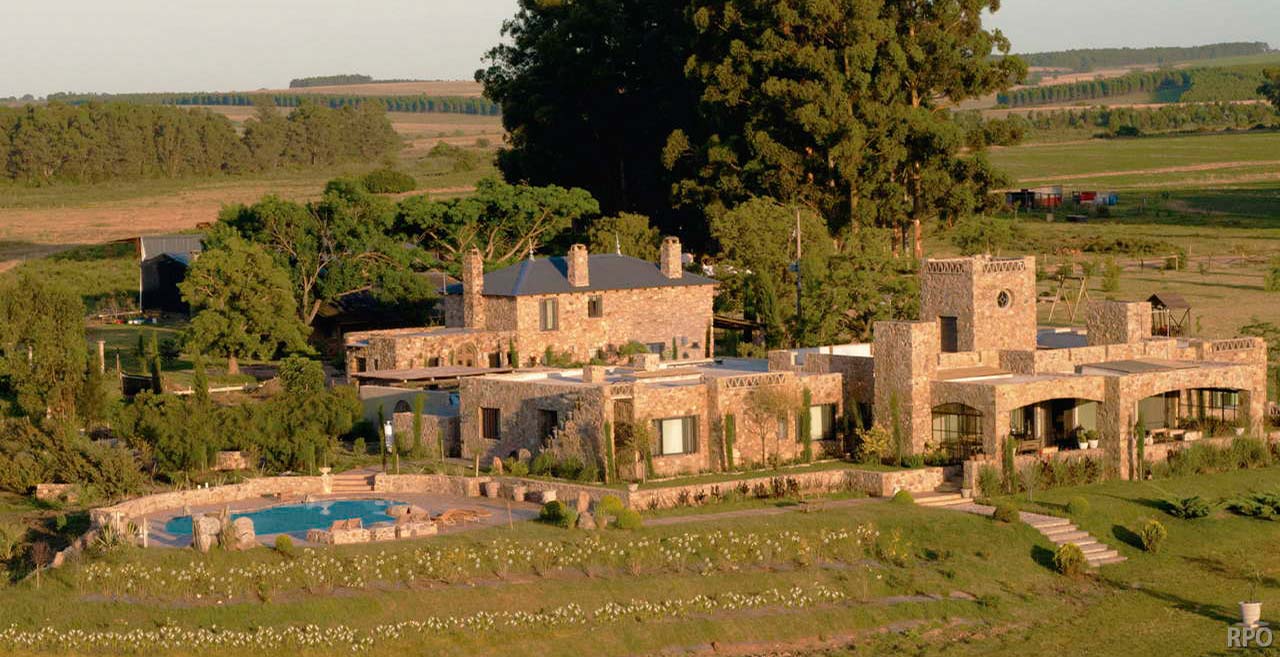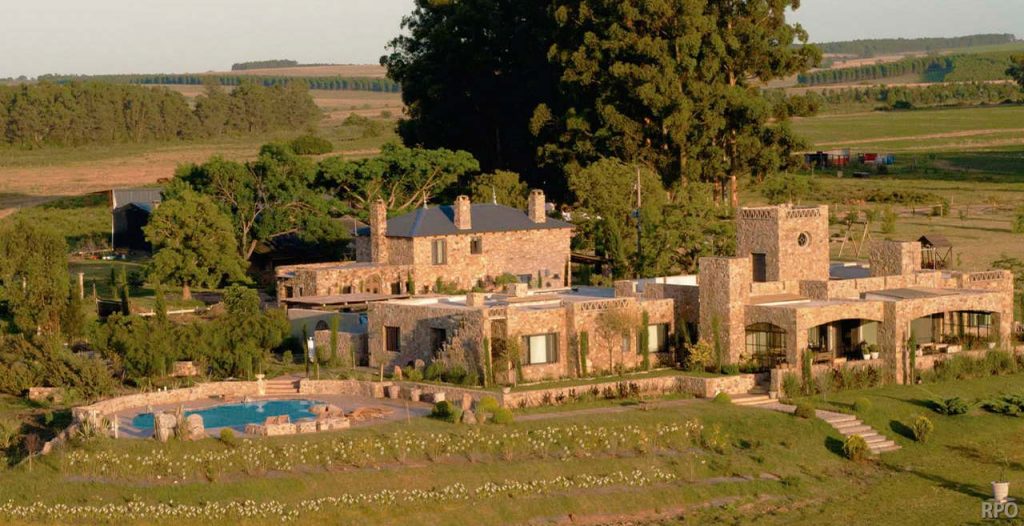 Estancia "La Bellaca" is considered the most luxurious mixed bag destination in South America and the easiest to reach. It is located only 45 minutes drive from the International Airport of Montevideo with direct daily overnight flights from the US and Europe. La Bellaca is situated in the midst of the "Sierra de Minas" hills country. The "Aguas Blancas" stream runs lazily through the property which presents stunning landscapes. Incredibly secluded, this estancia is only 45 minutes from Punta del Este which is commonly known as the Riviera of South America. It combines great beaches with sophisticated restaurants, casinos, and shopping. La Bellaca also is next to the Buddhist temple that Richard Gere usually visits. The stone-built lodge was completed in 2013 fully decorated and landscaped by the renowned decorator Carol Raquet. This 15.000 sq.ft. estancia accommodates up to 12 hunters distributed among its 8 very comfortable bedrooms with 7 bathrooms, two large living rooms, three dining rooms, a large partially enclosed terrace, two grill rooms and a small chapel.
Perdiz is a world-class upland game bird hunted over well-trained pointers. These birds hold very well in ground cover that many times is no higher than your ankles. Perdiz do not covey, and are usually flushed as singles, or occasionally in pairs, but they are very challenging. Your mouth will water as our chef serves you a delicious dish of freshly prepared perdiz.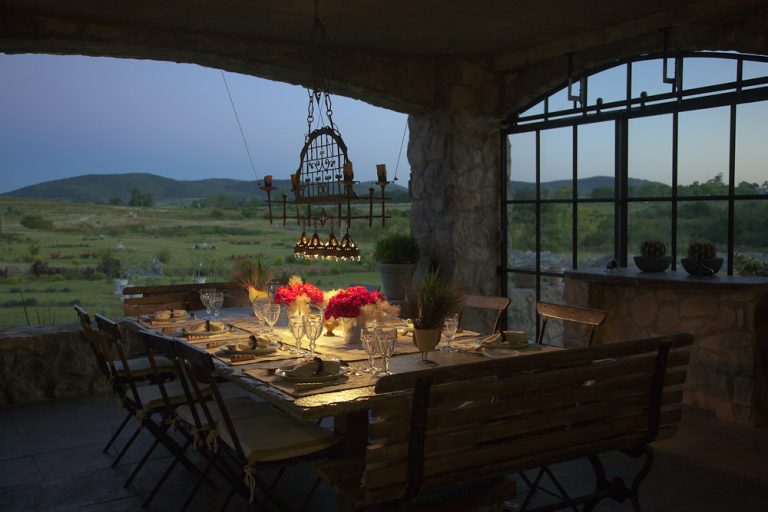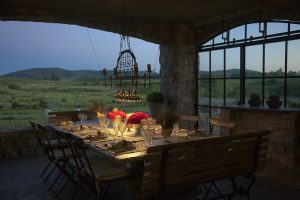 Pigeon shooting takes place in harvest corn fields or sorghum plantations which provides for incredible decoying. Fields and plantations are constantly scouted by experienced guides. Your personal guide will construct your blind from natural brush, place a nice spread of decoys within gunning range and then position themselves a short distance away so to assist you with gun loading, shells or just serve you a hot cup of coffee or a cold beer. Hunters can expect to shoot 6 boxes in a half-day shoot.
Eared Dove, considered a plague in Uruguay, provides the ultimate high-volume dove hunting experience. Dove presentations are limitless each day and, hunters can expect to shoot well over 100 boxes per day at doves during the prime time, November thru April. Driving times to the shooting areas are not more than 30 minutes.
Sample itinerary for pigeon, perdiz and dove
Day 1:
Arrival day. Upon arrival, you'll be greeted by one of our English-speaking guides at Montevideo's International Airport. From there, you'll have a 45-minute drive to the estancia, followed by an afternoon shoot at high-volume doves. Following the hunt, enjoy cocktails and a gourmet dinner at Estancia La Bellaca
Day 2 & 3:
Morning shoot at either high-volume pigeons over decoys or perdiz over dogs. In the afternoon shoot high- volume doves. Hunting grounds are 10-40 minutes drive from the estancia. Between hunts, you'll have lunch and time for a siesta. The evening will feature cocktails, dinner and lodging at La Bellaca.
Day 4:
Morning shoot high-volume pigeons over decoys or perdiz over dogs, prior to your departure. Following the hunt, have lunch at the estancia, then transfer to Montevideo's International Airport for your overnight flight back home.
Itinerary for high-volume dove ~ prime time: November thru April
| | |
| --- | --- |
| Day 1: | Arrival day. Upon arrival, you'll be greeted by one of our English-speaking guides at Montevideo's International Airport. From there, you'll have a 45-minute drive to the estancia, followed by an afternoon shoot at high-volume doves. Following the hunt, enjoy cocktails and a gourmet dinner at Estancia La Bellaca. |
| Day 2 & 3: | Morning and afternoon shoot at either high-volume dove. Hunting grounds are 10-30 minutes drive from the estancia. Between hunts, you'll have lunch and time for a siesta. The evening will feature cocktails, dinner and lodging at La Bellaca. |
| Day 4: | Morning shoot at high-volume dove. Following the hunt, you'll enjoy lunch at the estancia, then transfer to Montevideo's International Airport for your overnight flight back home. |
Contact Us