Our three feather program offers the possibility to hunt for the perfect mix of feathers granting a serious challenge to our savvy guest hunters.
The dove shooting in southern Entre Rios Province is truly super-high volume, rivaling anywhere in south America. Hunters will routinely go through 40 – 80 boxes per day and enjoy a variety of shooting blinds – on the perimeter of standing corn or sorghum fields, in the midst of cut sunflowers, in dense roosting cover and along flight lines.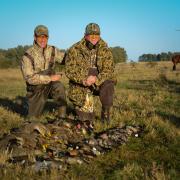 In this region, ducks are resident and migratory, in amazing numbers their flocks can blot the dawn over shallow freshwater lagoons, rice fields and riverine marshes. Each species – as diverse as the rosy-billed pochard, speckled and silver teal, brown pintail, fulvous and white faced tree ducks – works decoys  in its patent way.
The rosy-bill, South America´s prized large-bodied duck, is normally the most abundant species and decoys with spine-tingling verve. RPW´s guides get you to the blindes in stable 20-foot boats, powered by Go-Devils or with an anphibious 6×6 ATV, set out decoys, retreive the bag assisted by Labradors, and can call the ducks. Blinds have movable, revolving seats.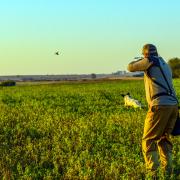 The wild native spotted tinamou, "perdiz", resemble a small partridge. When flushed, "perdiz"  fly fast and skim away on rushing wingbeats that delight upland gunners who love hunting over pointing dogs. Whether in South America or worldwide, this class of wild bird hunting over pointers is a rarity. Not at all unusual are 25 points in an hour. the terrain is easy: short grass pastures of fallow land – no brush, thorns or cactus.
During the cool mornings "perdiz" are the favored quarry . In Entre Rios, "perdiz" and bird dogs invest upland hunters with fresh dimensions of sport and companionship, wile at table, many rank the "perdiz" the finest of all white-meat game birds.
Along with the splendid hunting, guests will enjoy luxurious accomodations, the finest in cuisine and Argentine wines, and the caring and congenieal service for which River Plate is well known.
Itinerary
MIXED BAG PROGRAM – ENTRE RIOS, ARGENTINA
Day 1:
Arrive at Ezeiza Airport in Buenos Aires, Argentina. Upon arrival you will be met by a member of our staff, who will assist you with gun clearance, customs, etc. and transfer to El Rincón Gualeguay, Entre Ríos (approx. 3 hours drive).
PM: dove shoot.
Day 2 and 3:
At the guests option the morning may be at ducks (max. 5 boxes or 40 ducks; the first of the two) or perdiz over dogs (max 10 birds), returning to the estancia for lunch and siesta, followed by a dove shoot in the evening. Cocktails, dinner and continued overnight accommodations at the estancia.
Day 4:
Duck hunting in the morning. After lunch and packing, transfer by van to your Hotel or International Airport in Buenos Aires.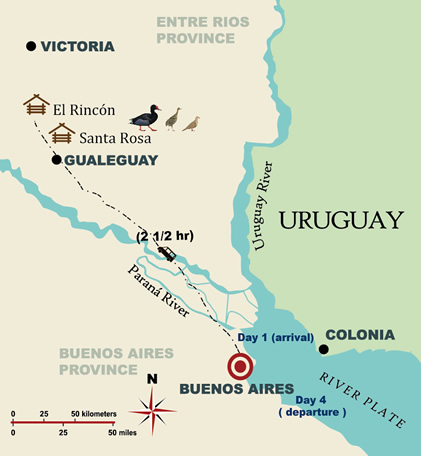 Contact Us