Ducks
Buenos Aires – Argentina (approx. April thru August)
Entre Ríos – Argentina (approx. April thru August)
Punta del Este – Uruguay (approx. April thru August)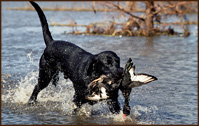 The main reason for River Plate's extraordinary duck shooting is its successful learning curve on feeding, careful management of the hunting areas and the selection of areas with more than one water level. For example, in southern Entre Rios, there are unique marsh systems with three different water levels (see map on previous page) thus ensuring that at any given time, conditions are ideal in one area or another. This is regardless of ever-changing climate conditions or even phases of the moon.
For each of its duck programs, River Plate feeds from 150 to 200 blinds, EVERY DAY. The feeding program involves a team of 15-20 gamekeepers who feed the ducks in varying amounts according to the number of birds on any given body of water and the phase of the moon.
The blinds are easily accessible. There is seldom a need to take a boat, wade through treacherous muck or do any walking at all. Hunters simply step out of the vehicle into the blind. Each blind hosts one or two men on swivel seats over conventional decoys and battery-powered or wind-powered decoys, while the guide uses an electronic caller that is capable of attract all the species available.
This is the world's best duck hunting…
Guests will see a continuous stream of low-flying decoying ducks of many species—including the prized rosy-billed pochards- charging into the decoys at a shell consumption rate of one box every 15-20 minutes! If you have never experienced this shooting, maybe you haven't really experienced duck hunting.
The duck hunting experience does not end with departing the blind. Guests will savor duck a l'orange and duck stroganoff and other gourmet duck specialties prepared by River Plate's master chefs.
---
Giant Perdiz
La Pampa – Argentina (approx. April thru August)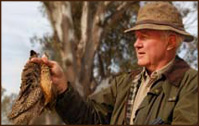 Hunters at Los Pampas will have the opportunity to enjoy a world-class shooting experience that is not available anywhere else in all of South America. Within an hour's drive from the lodge there are literally millions of acres of brush land, which is home to large populations of fast-flying crested Tinamou (giant perdiz), larger cousins of the perdiz normally hunted with bird dogs in Argentina. River Plate has developed a fantastic European-style driven shoot for these challenging targets. As in Europe, shooters will be assigned shooting stands and enjoy three or four different beats in an afternoon of gunning.
The giant perdiz is also a very sporty shoot over dogs. Expect 6-10 flushes every half an hour walking through brush land resembling South Texas or South Africa. Normally, two guns shoot behind one dog. A dog handler carries all birds and shells. Most of the dogs are quality German shorthairs, and Brittanys, which are best for perdiz.
---
Perdiz
Buenos Aires – Argentina (approx. April thru August)
La Pampa – Argentina (approx. April thru August)
Entre Ríos – Argentina (approx. April thru August)
Carmelo – Uruguay (approx. May thru August)
Punta del Este – Uruguay (approx. April thru July)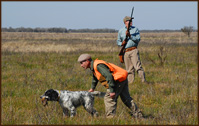 A River Plate classic. The spotted tinamou (or common perdiz) gets up with an explosive take-off and flies swiftly and in a straight line making it a very challenging target; one that upland gunners love to hunt over pointing dogs. The terrain is always easy – short-grass pastures with no brush. On a very good day it is possible to see up to 25 points in an hour, making for very exciting action. The dog work set-up is similar to that of the giant perdiz mentioned before.
---
Pigeon
La Pampa – Argentina (approx. April thru August)
Punta del Este – Uruguay (approx. April thru July)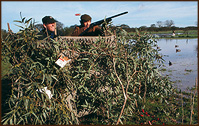 Also abundant, spotted-wing and picazuro pigeons are seen mingling with doves everywhere. However, our dedicated pigeon destinations offer huge flocks of virtually 100% spotted-wing pigeons. They are about the size of a wood pigeon and much larger than the Paraguayan pigeon. We place one or two guests to a blind. Blinds are equipped with swivel seats, and shooting is done over decoys placed on the ground, on stands, or on rotating carousels, modeled after carousels used in Scotland. Expect to shoot 6-8 boxes of shells during a two-hour morning shoot at some of the most challenging and deceptive incoming birds. Experienced shooters always shoot the furthest birds first, thus giving them time to shoot the nearest birds before they get out of gunning range. Easier said than done!
---
Dove
Buenos Aires – Argentina (approx. April thru August)
La Pampa – Argentina (approx. April thru August)
Entre Ríos – Argentina (all year)
Carmelo – Uruguay (all year)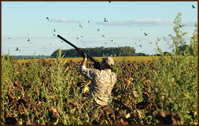 Considered a plague in Uruguay and Argentina, doves provide the ultimate high-volume bird shooting experience. It is no exaggeration to say that you can shoot doves in our areas until you are exhausted. Each hunter is provided with a swivel seat and two assistants to offer cold drinks and shells and attend to the shooter's needs, perhaps serving as loaders. Shooters can expect to fire 20-40 boxes in a half day session, rivaling the best of Argentina's high-volume destinations.