River Plate Wingshooting, the largest most prestigious outfitter in South America is proud to offer its traditional Argentina high volume Dove hunting & Pigeon shooting.
The Eared Dove, considered a plague in Argentina, provides the ultimate high-volume Dove hunting experience. Dove presentations are limitless each day and hunters can expect to shoot over 100 boxes per day at doves charging into fresh water holes. After 22 successful seasons of high volume Dove hunting in the Entre Rios province, Rive Plate continues its world class offerings.
This discount is applicable to the famous Santa Rosa lodge in the Entre Rios Province, selected among our 6 shooting lodges "estancias" to keep driving times to the shooting areas of not more than 30 minutes in order to provide you with the best Dove hunting.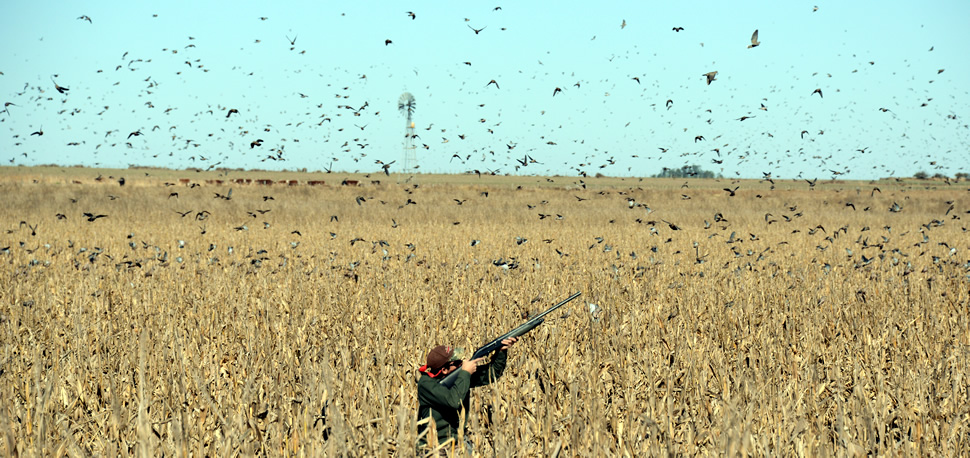 ---

Rates
This package includes:
3 1/2 days of high volume dove shooting
Reception at airport
Transportation to and from airport and shooting areas
4 days, 3 nights accommodations at estancia
All meals and beverages included at the estancia and at shooting fields
Open bar at the estancia
Two bird boys per hunter
The following are not included in this package:
Special transfers and hotel reservations when not arriving or departing with the rest of the party.
Laundry, telephone calls and personal expenses
Meals and beverages outside of the estancia or shooting fields
Tips: suggested US$70/day
Gun entry permits: US$ 180/gun
Shells: US$15/box
Gun rental: US$70/gun /day
Hunting licenses: US$180
Note: Please do not hesitate in contacting us if you have any questions about our programs, itineraries, or the trip in general.
Itinerary
Day 1:

 Half (to three quarter) day of dove shooting

Most flight arrive early in Buenos Aires; Argentina's capital city. Travelers are received by River Plate's ground transfer team and driven 2 ½ hours to Estancia Santa Rosa.

Enjoy a leisurely three course lunch and a "siesta". Depart lodge around 1:30 p.m. and drive 25 to 30 minutes to dove shooting field where the non-stop hot-barreled action begins. After 5-7 hours of shooting, return to the estancia for cocktails, snacks and a three course dinner.

Optional: Since flights arrive very early, your group may arrange with your host to have a lighter lunch and a longer dove hunting day instead.

Day 2 & 3:

Two-full days of high volume dove shooting

Wake-up call is at 7:00 a.m., breakfast is served at 7:30 and shooting departure at 8:30. High volume dove shooting begins around 9:00 a.m. and continues until lunch.

After the morning shoot, guests return for cocktails, snacks, and a three course lunch or a typical Argentinean "asado" (BBQ), and then a siesta.

At 3:00 pm it's time to get back to shooting which can continue until 7:00 pm during spring (Oct.-Dec.) and until 9:00 pm during summer (Dec-Apr.).

Return to the lodge for a relaxing cocktail time while sharing stories of all the great shots made and huge volume of birds taken. A three course dinner is then served, followed by a restful night's sleep.

Optional: There is no specific rule, therefore the party may arrange with the host for some extra shooting time early morning or late afternoon or have a field lunch to maximize shooting time.

Day 4:

Half (to three quarter) day of dove shooting

Same morning itinerary as day 2-3 except that we return a little later from the morning shoot to the estancia for lunch. After a 3 course lunch, pack your luggage and we're off to Buenos Aires International airport.

Optional: Since some flights depart late at night, you may arrange with your host to shoot in the afternoon. Remember We are only 2 ½ hours from the airport!
Contact Us