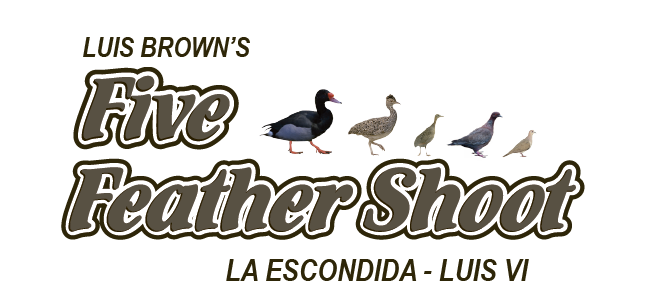 DUCK • DECOYING PIGEON • GIANT PERDIZ • PERDIZ • DOVE
For over 25 years Luis Brown's River Plate Wingshooting has selected the best shooting grounds in Uruguay and Argentina, and perfected service and logistics like no one else in the business to ensure that you enjoy the trip of a lifetime.
The only 5-feather program in Argentina
The only Montaraz (giant perdiz) over dogs hunt in Argentina
No long car drives on arrival or departure days (max.3½ hrs)
No domestic commercial flights
ESTANCIAS LA ESCONDIDA & LUIS VI (5-feathers)
Located in the provinces of Buenos Aires and San Luis, this two-estancia combination offers close proximity to an abundant population of duck, pigeon, both spotted and larger elegant crested tinamou (giant perdiz), and dove.
This is truly a mixed-bag wingshooting program offering great gunning for all of Argentina's sportiest species. La Escondida is a comfortable estancia centered in one of the best waterfowl areas in the Buenos Aires Province. Luis VI, formerly a famed big game estancia located right on the best pigeon and giant perdiz habitat in Argentina, is currently being remodeled for River Plate's shooting guests. Both estancias have 7 bedrooms and 6 bathrooms.
Duck shooting is similar to the standards established at other River Plate estancias and may include shooting over small or large ponds and irrigation canals, which provide for incredible decoying. All duck blinds are within 30 minutes from the estancia and 10 yds from the pick up truck. A number of duck blinds are conveniently situated for a half day shoot on the way to the upland area in San Luis Province.
Giant Perdiz (or Montaraz) either driven or over dogs is bountiful and can only be shot legally in the Pampa's brushlands.
Pigeons abound in the brushy habitat favored by the Giant Perdiz. Expect hundreds of pigeons coming in to decoy from all directions. This is truly a great shooting experience that rivals or surpasses the pigeon shooting in England and Paraguay.
Doves are shot at one of South America's largest roost next to estancia Luis VI and rivals Cordoba, with the added bonus that there is no significant driving time.
Perdiz A River Plate classic. The spotted tinamou (or common perdiz) gets up with an explosive take-off and flies swiftly and in a straight line making it a very challenging target; one that upland gunners love to hunt over pointing dogs.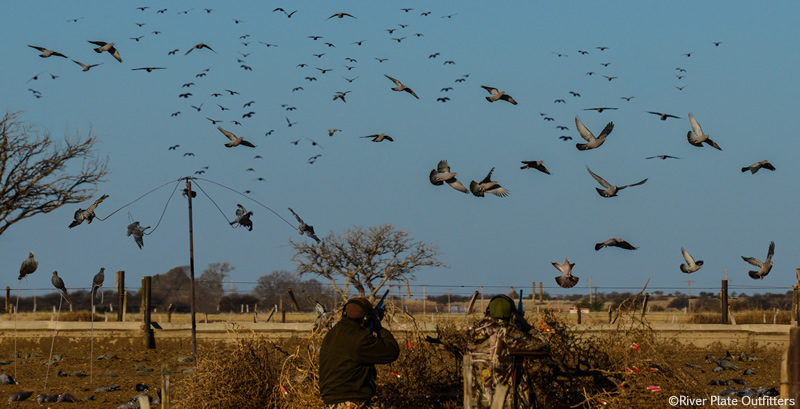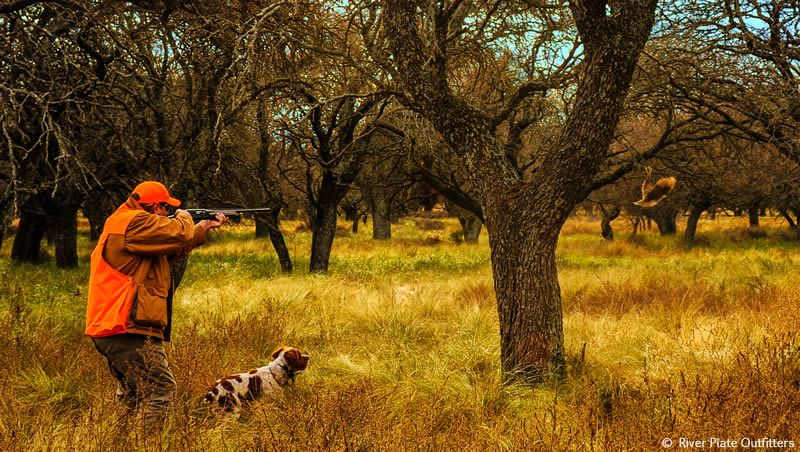 Itinerary
| | |
| --- | --- |
| Day 1: | Arrival day. Upon arrival, you'll be greeted by one of our English speaking guides at Buenos Aires' International Airport.  From there, you'll have a 4 hour drive to the estancia, followed by an afternoon duck hunt.  Following the hunt, enjoy cocktails and a gourmet dinner at Estancia La Escondida. |
| Day 2: | Morning and afternoon duck hunts no more than a 40 minute drive from the Estancia.  Between hunts, you'll have lunch and time for a siesta. The evening will feature cocktails, dinner and lodging at La Escondida. |
| Day 3: | You'll wake early for a duck hunt in the morning, with hunting grounds 10-45 minutes from the estancia.  Following the morning hunt, you'll drive approx. an hour for lunch and nap break at a country inn.  After your siesta, you'll drive approx. 45 minutes to the dove fields where your hunt will rival any dove hunts offered in Cordoba.  Once done with your hunt, you'll be transferred another 45 minutes to Estancia Luis VI for cocktails, dinner, and a good night's sleep. |
| Days 4 & 5: | Doves hunts are scheduled for the morning close to the lodge. For the afternoon , guests may opt   for (a) Decoying pigeon (30- 60 min. drive) or (b) Giant perdiz over dogs (15 min. drive) or (c) Perdiz over dogs (5 min. drive). The evening will again feature cocktails, dinner and lodging at Luis VI. |
| Day 6: | You'll enjoy any of the afternoon hunts of Days 4&5 above.  Following the hunt, you'll  have lunch at the estancia, then transfer to local airport for your flight back to Buenos Aires for your overnight flight back home. |
Contact Us